Countries/areas where JLPT is administered
(2018 test figures)
The JLPT can be taken at various locations around the world.
Japan: 47 prefectures
Overseas: 249 cities in 85 countries/areas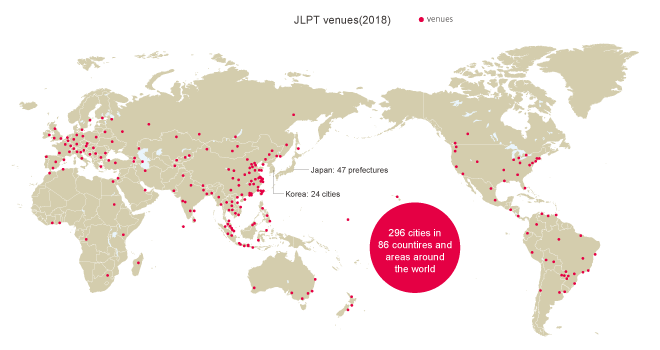 Changes in number of examinees (1984-2018)
The number of examinees has been increased along with an increase in the number of Japanese learners※1.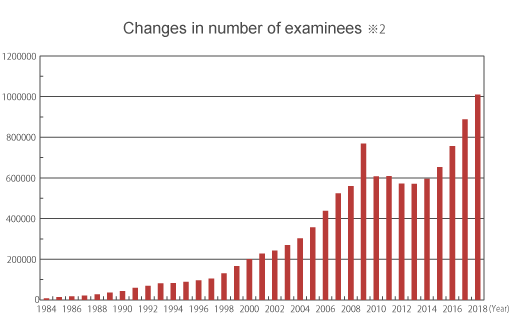 Changes in number of applicants and examinees
※1 "Survey on Japanese-Language Education Abroad" conducted by the Japan Foundation shows that the number of Japanese learners overseas has increased from 580,000 in 1984 to 3,650,000 in 2015.
※2 2009 was the first year the test was conducted twice and also the last year of the old JLPT. Exceptionally many examinees took the test that year.
Attributes of applicants
JLPT applicants cover a wide age range, from elementary school pupils to working adults.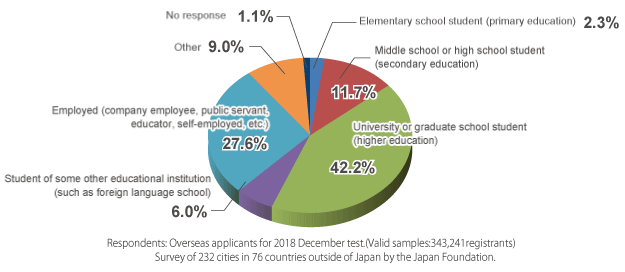 Reasons for taking the test
The JLPT is taken for various reasons, including admission to advanced education, finding employment and testing one's own abilities.